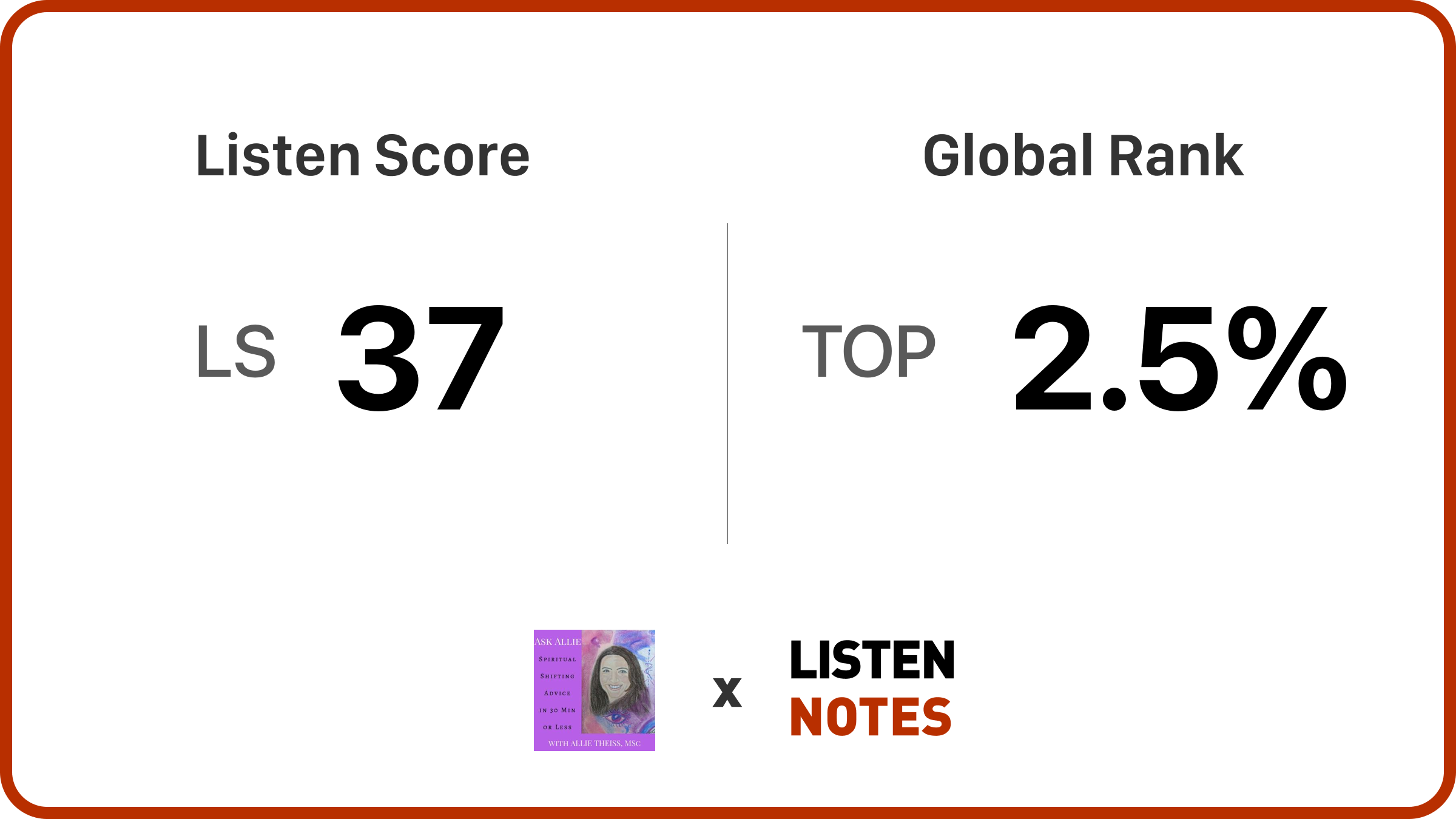 September 4, 2023
Ask Allie Podcast: Life Advice with a Metaphysical Twist!
Longest-running spiritual podcast on iTunes. Helping others since 2005.
Grab a reading, OBE adventure fun, soulmate/twin flame magic, and DIY energy work: https://outofbodyecstasy.com/shop-2/
Sign up for your weekly flash spells (under membership): https://ask-allie.captivate.fm/support
Want to belong to a small group of like-minded people as you explore your spirituality? Come look at the Mystical Minds with our Intention Grids; Weekly card pulls for each member, energy forecasts, the chance to purchase crystals before the public, monthly online chats, and webinars. To find out more, click on this link: http://mysticalminds.co
SHOW FORMAT: SEASON 18 – EPISODE 32

* Introduction
Welcome to Ask Allie – your go-to source for some amazing life advice with a metaphysical twist! I'm Allie, the host of the longest-running spiritual podcast on Apple Podcasts. Since 2005, I've been helping people like you navigate the mystical world of self-discovery, spiritual growth, and exploration.
Today is Monday, September 4, 2023, and I'm so excited you're tuning in to give me a listen. Today we'll be discussing why take a risk.
If you love this episode and want to learn more, head to outofbodyecstasy.com. There you'll find a ton of resources and information, including how to book a reading with me. And don't forget, if you're feeling extra generous, please give this episode a 5-star rating, leave a review, or share it with 3 friends. Together, we can create a community of like-minded, spiritual individuals working towards creating a better life for ourselves and others.
* Updates
Are you ready to dive deeper into your spirituality and surround yourself with a community of like-minded individuals? Look no further than Mystical Minds! As a member, you'll get access to our intention grids, a weekly card pull personalized for each member, energy forecasts, the chance to purchase crystals before they're available to the public, and even monthly online chats and webinars.
Think of it as your spiritual support group, where you can share your insights, ask questions, and grow together. To learn more and join the group, click the link in the show notes to Mystical Minds. Trust me, you won't regret it. It's a magical journey that you don't want to miss out on! Find out more by clicking on the link below to Mystical Minds in the show's notes.
* Magical Item of the Week: Frankincense (oil)
* Oracle Card Reading of the Week for September 4, 2023
* Topic: Why Take Risks?

We're diving into a really interesting topic sent in by one of our amazing listeners, Liz. She emailed me asking how to take risks and why they benefit personal growth. Liz, thank you for reaching out; I'm sure many others are curious about this, too!
Alright, let's get into it. Taking risks can feel like stepping into uncharted territory, and feeling a bit apprehensive is natural. But here's the thing—embracing risk is an incredible catalyst for growth. Why? Because taking risks forces you to venture outside your comfort zone, and that's where the magic happens.
Why should you consider adding a sprinkle of risk-taking into your life? Let's look at some key benefits:
Personal Growth
First off, the idea that taking risks contributes to personal growth isn't just motivational fluff; it's backed by psychology. When you take a risk, you're essentially venturing into the unknown, where you get to test your limits and adapt. You might pick up a new hobby and find out you're good at it. Or maybe you take on a challenging project and discover talents you never knew you had. The point is, that growth happens in discomfort, so don't shy away from it.
Boosting Your Confidence
Self-confidence isn't something we're born with; it's built over time through experiences and achievements. Let's say you take the risk of public speaking and find out it's not as scary as you thought. Or maybe it is terrifying, but you survive it and know you can do it again. Each time you take a risk and succeed, or even just survive, you're banking little nuggets of confidence you can draw upon in the future.
Unlocking Opportunities
Taking risks can be like throwing a stone into a pond. The ripples can reach places you never even considered. Maybe taking a risk on a new job could relocate you to a city you fall in love with. Perhaps taking a risk in reaching out to someone you admire leads to a mentorship or collaboration that opens doors for you down the line. You never really know where risk will lead you, but one thing is certain: if you never take it, you'll stay exactly where you are.
Living a More Fulfilling Life
I want to stress the value of being a more adventurous spirit. A different kind of happiness and fulfillment comes from embracing the full spectrum of life experiences, including its risks and challenges.
Overcoming Fear
Start Small
Big risks can be paralyzing, so why not start with something manageable? For instance, instead of quitting your job to start a business, you could start by taking a course on entrepreneurship. Small wins are like stepping stones that give you the balance and courage to cross the river of your fears.
Visualize Success
Visualization isn't just for athletes. If you're contemplating a risk, imagine a positive outcome. The more detailed your mental image, the more real it feels, and the more attainable it becomes. Your brain often doesn't distinguish between what's vividly imagined and what's real, so take advantage of this psychological trick to bolster your courage.
Seek Support
Humans are social animals; we thrive in communities. When you're grappling with the idea of taking a risk, don't underestimate the value of a different perspective. Whether it's friends, family, or mentors, sometimes just hearing someone else say, "You can do this," makes a world of difference.
Practical Tips
Do Your Homework
Risk doesn't mean reckless abandon. The most successful risk-takers are often quite calculated. They weigh the pros and cons, consider the best and worst-case scenarios, and prepare as much as possible. The more you know, the less you have to fear.
Embrace Failure
Look, failure is a fact of life. It's also one of the most powerful teachers. When you take a risk and it doesn't pan out, don't think of it as a defeat. Instead, see it as a learning opportunity. What did you do wrong? What could you do better next time? Each failure is a step closer to success.
Celebrate Your Wins
Finally, every time you take a risk and it pays off, take a moment to celebrate. Whether it's a glass of wine, a happy dance, or just a few moments of grateful reflection, acknowledging your achievements boosts your self-esteem and prepares you for bigger challenges.
Liz, I hope this extended deep dive has given you more courage and tools to embark on your journey into the exciting world of taking risks. And to everyone else tuning in, if this conversation has ignited a spark within you, don't let it fizzle out. Fan the flames and see where it takes you.
* Closing remarks
Thanks for hanging out with me on Ask Allie today! I hope you enjoyed the episode and realized what it takes to Create Your Day with Intention.
If you liked what you heard, please take a moment to rate and review the episode. The more people who listen, the more people I can help have their "ah-ha" moments. And speaking of helping others, don't forget to follow me on Facebook, Instagram, TikTok, and Wisdom for even more tips, tricks, and inspiration.
And last but not least, if no one's told you today, let me be the first to say it: you are fabulous! Take care of yourself and have a magical week. I'll catch you next time!
Questions about Out of Body Ecstasy?
Click here to check out the OBE FAQ.
Want to know more about
telepathic, dream, or astral sex
? Ready to add an
orgasmic layer
to your sex life no matter if you are in a relationship or flying solo?
Check out my book Out of Body Ecstasy at Amazon today!