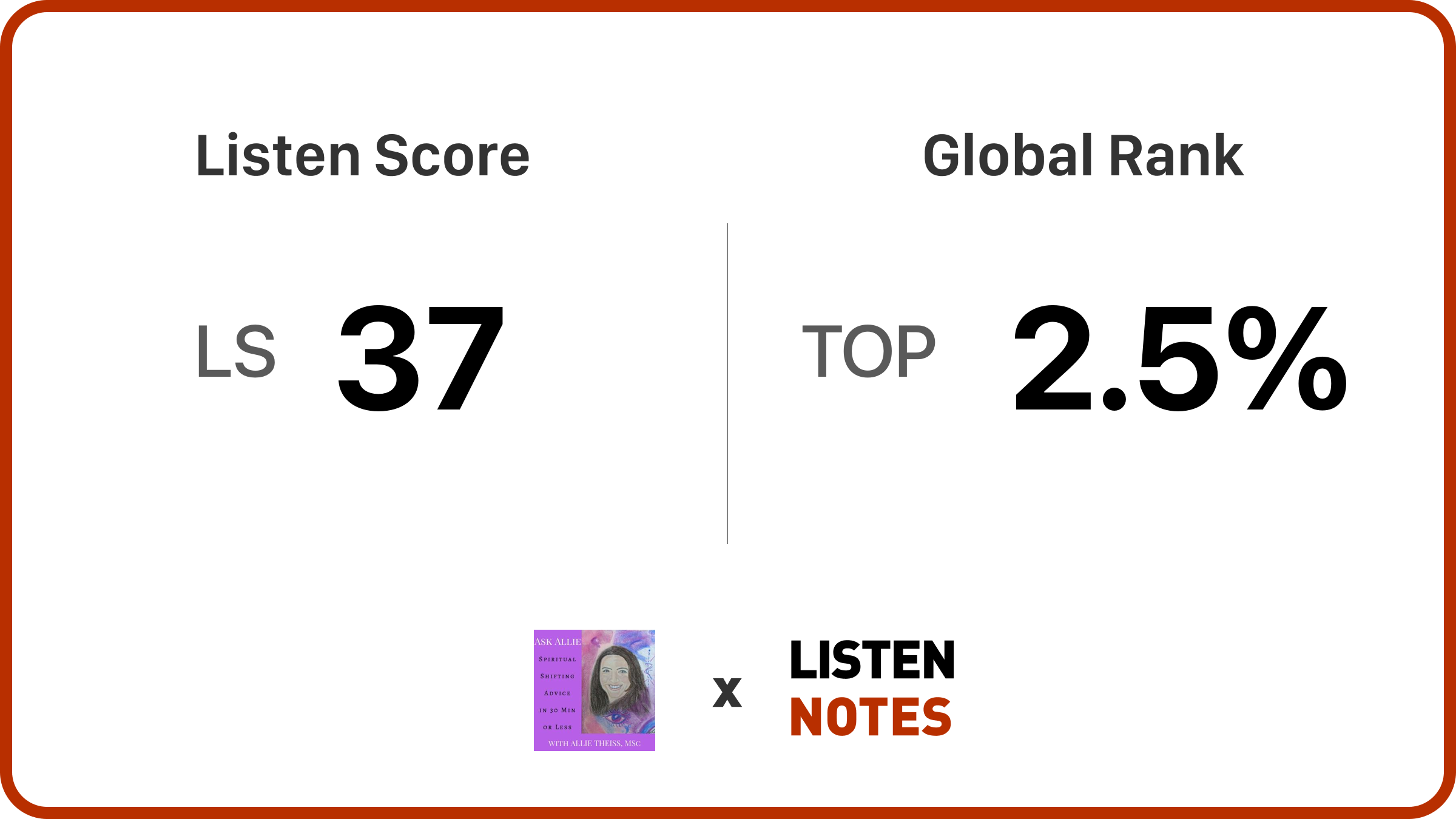 July 31, 2023
Ask Allie Podcast: Life Advice with a Metaphysical Twist!
Longest-running spiritual podcast on iTunes. Helping others since 2005.
Ask Allie Workbooks: https://outofbodyecstasy.com/product-category/ask-allie/
Sign up for your weekly flash spells (under membership): https://ask-allie.captivate.fm/support
Grab a reading, OBE adventure fun, soulmate/twin flame magic, and DIY energy work: https://outofbodyecstasy.com/shop-2/
Want to belong to a small group of like-minded people as you explore your spirituality? Come look at the Mystical Minds with our Intention Grids; Weekly card pulls for each member, energy forecasts, the chance to purchase crystals before the public, monthly online chats, and webinars. To find out more, click on this link: http://mysticalminds.co
SHOW FORMAT: SEASON 18 – EPISODE 27

* Introduction
Welcome to Ask Allie – your go-to source for some amazing life advice with a metaphysical twist! I'm Allie, the host of the longest-running spiritual podcast on Apple Podcasts. Since 2005, I've been helping people like you navigate the mystical world of self-discovery, spiritual growth, and exploration.
Today is Monday, July 31, 2023, and I'm so excited you're tuning in to give me a listen. Today we'll be discussing creating Embracing Self-Love to Enhance Love Spells.
If you love this episode and want to learn more, head to outofbodyecstasy.com. There you'll find a ton of resources and information, including how to book a reading with me. And don't forget, if you're feeling extra generous, please give this episode a 5-star rating, leave a review, or share it with 3 friends. Together, we can create a community of like-minded, spiritual individuals working towards creating a better life for ourselves and others.
* Updates
Season 18 ep 27
Flash Spell: Stone of Love
Workbook: Harnessing the Power of Self-Love in Spell Casting
Are you ready to dive deeper into your spirituality and surround yourself with a community of like-minded individuals? Look no further than Mystical Minds! As a member, you'll get access to our intention grids, a weekly card pull personalized for each member, energy forecasts, the chance to purchase crystals before they're available to the public, and even monthly online chats and webinars.
Think of it as your spiritual support group, where you can share your insights, ask questions, and grow together. To learn more and join the group, click the link in the show notes to Mystical Minds. Trust me, you won't regret it. It's a magical journey that you don't want to miss out on! Find out more by clicking on the link below to Mystical Minds in the show's notes.
* Magical Item of the Week: Rose Quartz (stone)
* Oracle Card Reading of the Week for July 31, 2023
* Topic: Embracing Self-Love to Enhance Love Spells

Today, we explore the power of self-love and how it influences the potency of love spells.
SEGMENT 1: THE INTERPLAY OF SELF-LOVE AND LOVE SPELLS
To cast a successful love spell, it's crucial to nurture self-love. This segment will delve into the symbiotic relationship between self-love and love spells.
In the realm of magic, particularly love magic, self-love plays an integral and symbiotic role. The relationship between self-love and love spells is multifaceted and profound. Here's why:
Energy Attraction: At a fundamental level, magic is about energy manipulation. The energy you hold within you is the energy you project into the world and, consequently, the energy you attract. If you love and respect yourself, you project that energy, which in turn attracts love and respect from others. A love spell cast in this state of self-love is more likely to attract genuine, respectful love.
Clarity of Intention: When you practice self-love, you're in tune with your needs, desires, and boundaries. This clarity can refine the intentions behind your love spells. The more precise and honest your intention, the more powerful and effective the spell.
Healthy Relationships: Self-love fosters healthier relationships. When you respect and value yourself, you create relationships that reflect this. It allows you to attract love that is not based on filling a void or deriving self-worth from someone else but rather on sharing and mutual growth. Love spells cast in this context tend to bring forth healthier, more balanced relationships.
Mitigating Harm: Love spells can be complex, and if done with a lack of self-love, they can result in unhealthy or harmful situations. But when you love yourself, you're less likely to cast spells that could harm you or others.
In essence, the more self-love you nurture within yourself, the more potent, positive, and beneficial your love spells are likely to be. It's a symbiotic relationship because self-love and love spells mutually influence and enhance each other. The growth in self-love powers your love spells, and successful love spells, in turn, validate and reinforce your self-love.
Easy Action Steps:
Write down what self-love means to you.
Reflect on how your level of self-love might influence your spell casting.
Reflection Steps:
Spend a few moments reflecting on your personal understanding of self-love.
Contemplate how your current level of self-love could potentially influence your spell casting abilities.
SEGMENT 2: PRACTICAL STRATEGIES FOR CULTIVATING SELF-LOVE
Love starts from within. It's crucial to understand that self-love isn't about being self-centered or narcissistic. It's about acknowledging your self-worth and respecting your own needs, feelings, and aspirations. Cultivating self-love allows you to have a healthier relationship with yourself and others, and in this context, it enhances the effectiveness of love spells, such as the Whisper of Love spell.
In this segment, we'll delve into specific strategies and daily practices to foster self-love. Each practice offers you an opportunity to connect with your inner self, encouraging growth, acceptance, and love.
Self-Affirmations: Positive affirmations are a powerful tool to cultivate self-love. By repeating statements that affirm your self-worth, you can transform your thought patterns, replacing self-doubt and criticism with self-confidence and love. Start each day by standing in front of a mirror, looking into your own eyes, and saying something kind to yourself. It could be as simple as, "I am worthy of love and happiness," or as specific as, "I appreciate my determination and creativity."
Mindfulness and Self-Care: Taking time to care for your physical, emotional, and mental well-being is a tangible demonstration of self-love. It's about giving yourself permission to rest, to enjoy, and to take care of your needs. Incorporate mindfulness practices, such as meditation or yoga, into your daily routine. These activities foster a sense of inner peace, allowing you to better connect with your inner self.
Personal Growth and Self-Improvement: Self-love is also about allowing yourself to grow, to make mistakes, and to learn from them. Engage in activities that promote personal growth and self-improvement. This could include reading self-help books, attending personal development workshops, or setting personal goals.
Healthy Boundaries: Establishing healthy boundaries is a key aspect of self-love. It's about respecting your own needs and communicating them effectively to others. Learn to say no when something doesn't serve you. Stand up for yourself when you feel disrespected. Assert your needs in your relationships.
Gratitude Practice: Acknowledge the good in your life and in yourself. At the end of each day, jot down three things about yourself or your day for which you are grateful. This practice cultivates a positive mindset and helps you recognize and appreciate your self-worth.
Remember, self-love is a journey and not a destination. Practice these strategies consistently and observe how they enhance your sense of self-love and the potency of your love spells.
SEGMENT 3: NAVIGATING CHALLENGES AND DOUBTS
The journey towards self-love and enhancing your spell casting abilities is rewarding, but it's not without its challenges and doubts. These hurdles can often cloud our path, cause uncertainty, and at times, even lead us to question our self-worth and abilities. However, it's important to remember that these doubts and challenges are not roadblocks, but stepping stones towards growth and understanding.
In this segment, we'll address some of the common challenges related to self-love and spell casting, offering insights and advice to help you navigate these hurdles.
Overcoming Negative Self-Talk: Negative self-talk is a common barrier to self-love. These are the critical and often harsh thoughts we have about ourselves. This negative chatter can diminish our self-love and consequently affect our spell casting. It's important to recognize these negative thoughts, challenge them, and replace them with positive, loving affirmations.
Coping with Past Failures: Past failures or perceived failures in love and spell casting can often lead to self-doubt. However, it's crucial to understand that everyone makes mistakes and experiences setbacks. Instead of viewing these as failures, consider them as learning experiences. They are opportunities for growth and improvement.
Dealing with Impatience: The journey to self-love and mastery in spell casting requires time and patience. It's not uncommon to feel impatient, especially when results are slow to manifest. Remember, meaningful change takes time. Trust in the process, and try not to rush your journey.
Battling Loneliness: The path to self-love can sometimes feel lonely, particularly if you feel misunderstood or unsupported. It's important to seek out supportive communities and safe spaces where you can share and learn from others on a similar path.
Nurturing Resilience: Resilience is your ability to bounce back from setbacks and challenges. Nurturing resilience is key to maintaining your self-love journey and enhancing your spell casting abilities. Remember, each hurdle you overcome strengthens your resilience and brings you one step closer to your goal.
As you navigate these challenges and doubts, remember, every step you take on this journey, no matter how small, is a step towards self-love and spell casting mastery. Keep faith in yourself and your journey.
As we conclude, remember that self-love is a beautiful journey, not just a destination. This journey can powerfully enhance your spell-casting abilities, fostering love, self-respect, and personal growth in your life. The journey to self-love is just as magical as the spells you cast. So, embrace it and let it shine through your magic. Until next time, remember to love and be kind to yourself.
* Closing remarks
Thanks for hanging out with me on Ask Allie today! I hope you enjoyed the episode and realized what it takes to Embrace Self-Love to Enhance Love Spells
If you liked what you heard, please take a moment to rate and review the episode. The more people who listen, the more people I can help have their "ah-ha" moments. And speaking of helping others, don't forget to follow me on Facebook, Instagram, TikTok, and Wisdom for even more tips, tricks, and inspiration.
And last but not least, if no one's told you today, let me be the first to say it: you are fabulous! Take care of yourself and have a magical week. I'll catch you next time!
Questions about Out of Body Ecstasy?
Click here to check out the OBE FAQ.
Want to know more about
telepathic, dream, or astral sex
? Ready to add an
orgasmic layer
to your sex life no matter if you are in a relationship or flying solo?
Check out my book Out of Body Ecstasy at Amazon today!